Businesses play a large role in protecting Maine's environment, including our land and wildlife, and stormwater compliance is a big part of that. In this blog, we'll break down the complexities of proper compliance and explain how businesses can simplify the process – a win for the business and for Maine. Let's get started.
What is stormwater?
Stormwater is water (rain or snow melt) that runs across and down from impervious surfaces, such as pavement and rooftops. At sites where industrial activities involving contaminants take place outdoors, improper stormwater discharge can cause that pollution to spread off site.
Who needs a stormwater permit, and what does it involve?
To regulate stormwater discharge, the Maine Department of Environmental Protection (DEP) and the Federal EPA require sites associated with certain industrial activities to obtain coverage under Multi-Sector General Permits (MSGPs), which are designed to ensure the reduction or elimination of pollutants in these specific stormwater discharges.
The MSGP requirement applies to 29 industrial sectors using applicable Standard Industrial Classification (SIC) Codes, accessible through the U.S. Department of Labor here. Solid waste transfer stations, for example, often need to have this type of permit if they move waste outdoors where it might encounter stormwater.
If industrial activities are not exposed to rain or snow/ice melt (for example, if they take place under a protected shelter), a facility may potentially qualify for exclusion from the MSGP, though they still must comply with requirements defined in the DEP No Exposure Certification (NEC) form and undergo regular DEP inspection.
If you're unsure whether your business or job site needs a stormwater permit, start with the following three questions:
What do you do outside?
If you conduct outside industrial activities that come into contact with rainwater, you will most likely need a permit.
Where does your water go?
It's important to know where water is flowing after a big rain/snow/ice melt event since it will impact your requirements.
Do you have any rivers or streams nearby?
Maine has so many rivers, streams, and wetlands that the chances of stormwater discharge reaching a waterbody (and all the aquatic wildlife and ecosystems within it) are usually strong. If you have a river or stream nearby, the St.Germain team can talk you through what steps to take next.
How can St.Germain Help?
If your site does fall under the MSGP, we can help you understand all the specific requirements of your industrial activity, secure the permit, and comply with its many terms, including:
Development of a Stormwater Pollution Prevention Plan (SWPPP)
The backbone of stormwater compliance is the development of, and adherence to, a stormwater pollution prevention plan.
This process starts by working together with clients to identify every possible source of stormwater pollutants/contamination on site. Some common hidden sources include:
Bits of trash or debris from site activities
Road dirt from big trucks moving in and out of the site
Oil dripping from trucks or outdoor fueling stations
Not only does your customized SWPPP help prevent stormwater pollution, it also dually protects your business and our state.
Detailed monitoring and testing (when the actual minute counts)
St.Germain's engineers and scientists have extensive knowledge of Maine's stormwater requirements and plenty of experience conducting the quarterly stormwater sampling and compliance evaluations required by MSGPs – both EPA and Maine.
Many states just follow the EPA rules, but Maine has its own state permit and corresponding requirements that differentiate it from others (for example, in Maine you must collect stormwater samples during normal operating hours, while other states do not have this requirement, which means samples may need to be collected in the middle of the night).
Many clients hire St.Germain not just for permitting and plan development, but for ongoing compliance tasks such as quarterly monitoring. In these cases, each quarter, our team walks through the entire site to check potential pollutant sources identified in the SWPPP and make sure they're being well-maintained. Then, it's up to Mother Nature for the second part.
Following storm criteria, if 72 hours of dry weather are followed by more than 0.1 inches of rain within a 24-hour period, you need a collect this water sample once per quarter – ideally within the first hour of discharge (not when it starts raining, but rather when the water starts flowing off site), and no more than two hours and 15 minutes later. Not only is this a very tight window of time, but the ideal time to collect a sample is also very dependent on the site itself, with water flowing more quickly on some sites than others. This exacting sample collection process is why so many industrial clients rely on the St.Germain team.
The normal rhythm of Maine's four seasons also impacts quarterly testing (Q1 is often too frozen for a snow melt sample, spring and fall tend to be rainy, and summer can be very dry) – but St.Germain has the expertise to meet State and EPA sampling requirements in all such conditions.
The photo below shows stormwater samples collected in mid-August 2021 after a rain event. These samples are in Imhoff cones, which allow us to evaluate the water for any evidence of pollution such as color, clarity, suspended/settled solids, odor, foam, oil sheen, etc.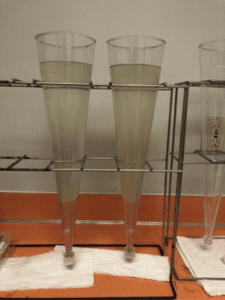 Protecting your business and our environment
Beyond offering stormwater services and stormwater engineering management solutions, we care about our clients and want to see their businesses succeed. We take pride in getting to know client sites incredibly well, identifying any potential sources of stormwater pollutants, and having a plan in place to prevent any issues that could keep the business from operating to its fullest potential.
If you feel you could use a partner to keep your stormwater discharge compliant, we would love to help.
Call us at (207) 591-7000 to get started.