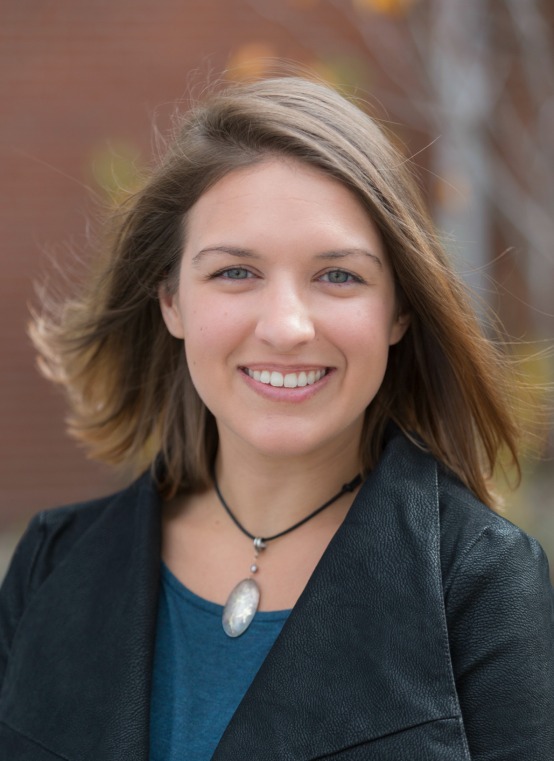 Amanda Bisson – Project assistant
Amanda Bisson specializes in office management, editing, and report production and serves as the vital first line of communication for clients and the community. Prior to joining our team in 2011, Amanda worked as an administrative and project assistant for an international environmental consulting and engineering firm.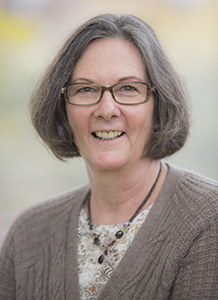 Ava Lindberg – Accounting Assistant
Ava Lindberg is St.Germain's Accounting Assistant. Ava oversees the company's accounts payable and accounts receivable processes. She has a background in accounting as well as customer service and is a great addition to our team. In her spare time, she is a mentor for the Bonny Eagle Robotics Team (BERT 133).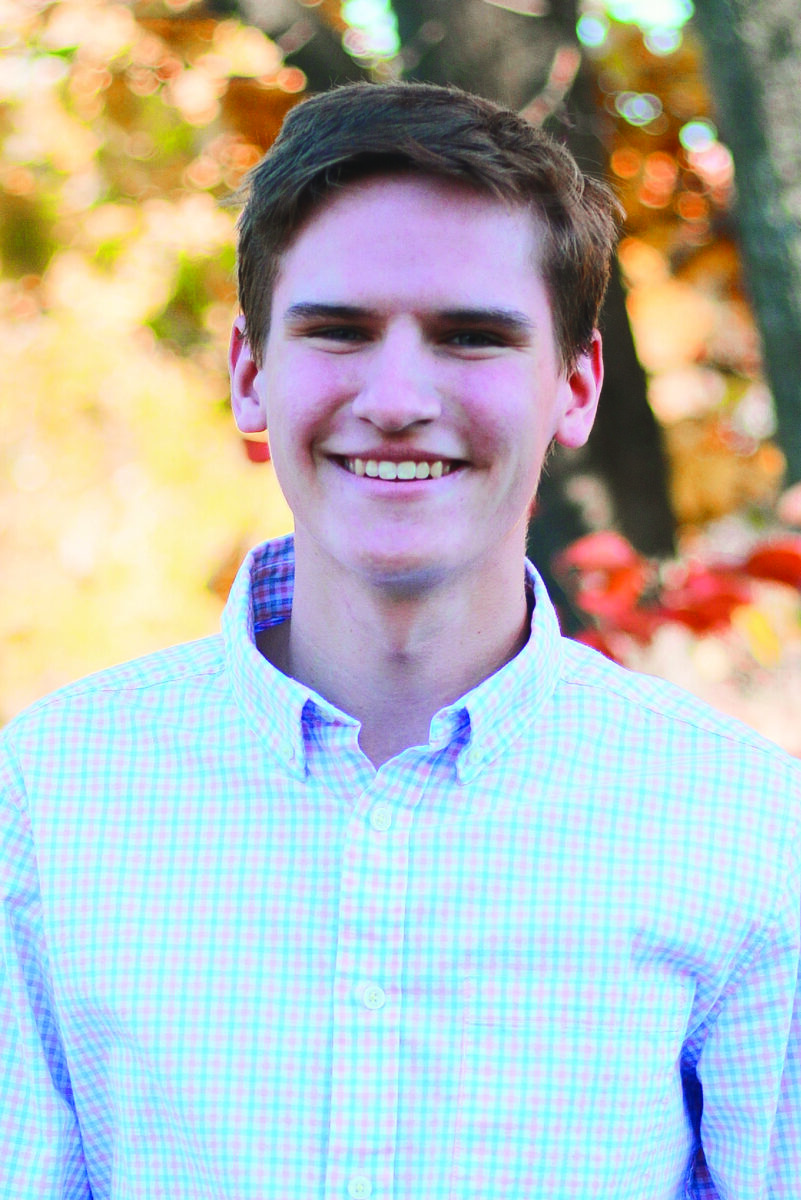 Camden McFadden

,
Environmental Field Technician
Camden McFadden is an Environmental Field Technician whose new role at St.Germain includes assisting with stormwater and soil sampling. He will be working closely with our Environmental Scientists on groundwater monitoring at aggregate sites as well as managing field activities during Phase II soil removal and remediation projects.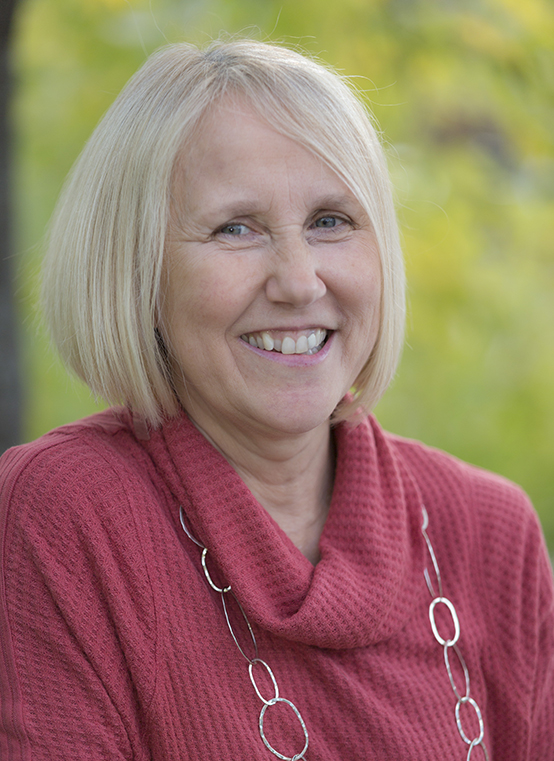 Cheryl Ahearn – CONTROLLER
Cheryl Ahearn is the Controller at St.Germain. She has a strong background in accounting, with more 30 years of experience providing business accounting consulting services. Cheryl oversees all accounting functions at St.Germain including accounts payable, accounts receivable, payroll compilation, budgeting, forecasting, and financial reporting.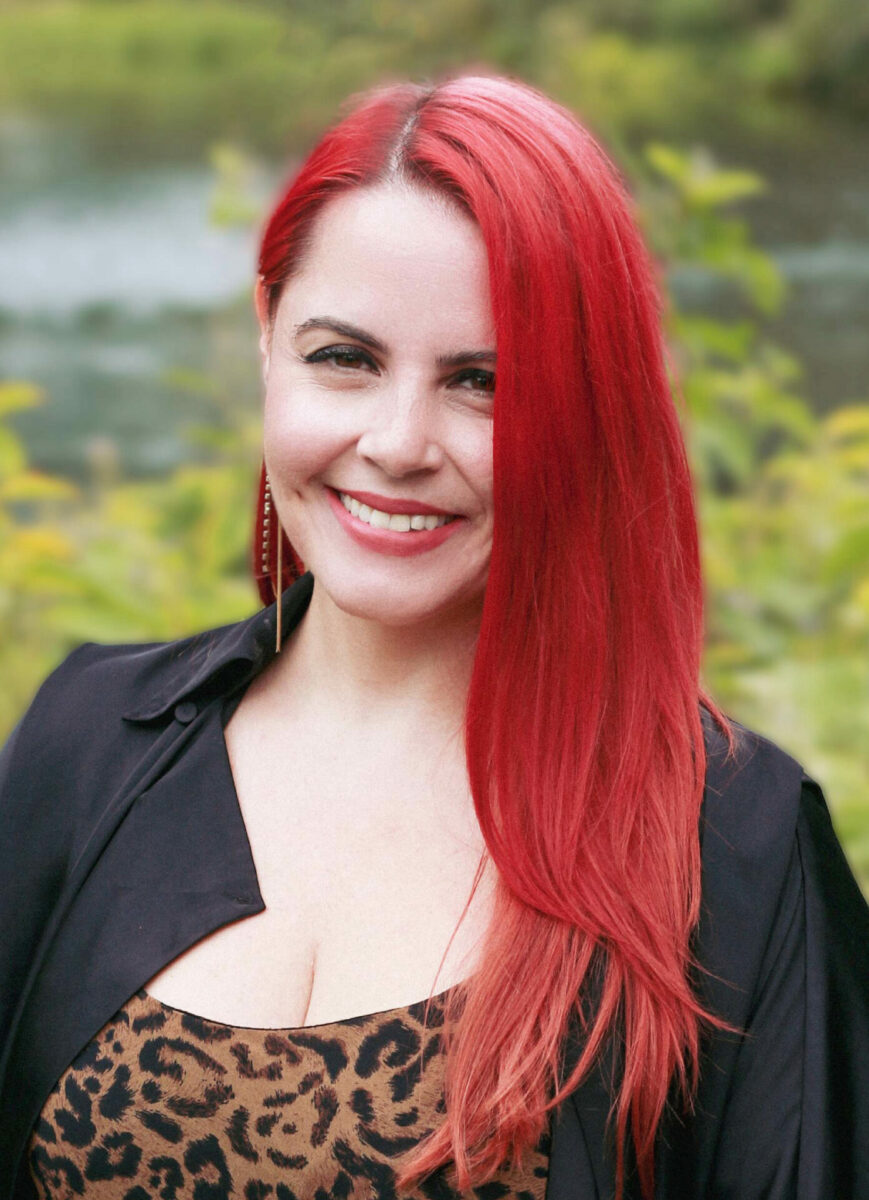 CHRISTINA WALLS – OFFICE ADMINISTRATOR
Christina Walls brings extensive administration experience and exceptional organizational skills to our team. In her role, Christina helps manage the day-to-day responsibilities across multiple projects and tasks. Prior to joining St.Germain, Christina worked as a senior administrative associate for a financial advisory firm.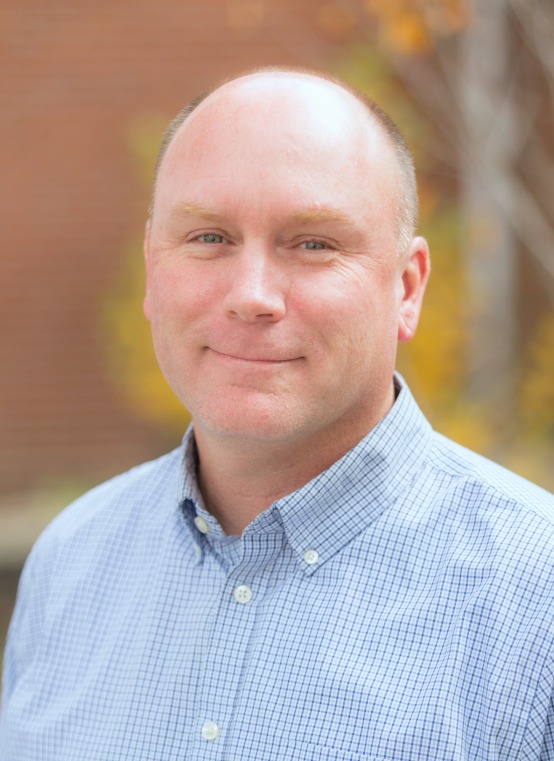 Donald McFadden, L.G. – Principal & Senior Manager
Don McFadden is a Principal and Senior Manager and manages a variety of complex environmental assessment and remediation projects. Don has specific expertise in assessing risk and liability associated with commercial and industrial real estate and in the interpretation of geologic, groundwater, and chemical data. Prior to joining St.Germain, Don owned and operated Black Point Environmental, LLC and was employed for more than 15 years by several successful consulting firms in Maine and Massachusetts.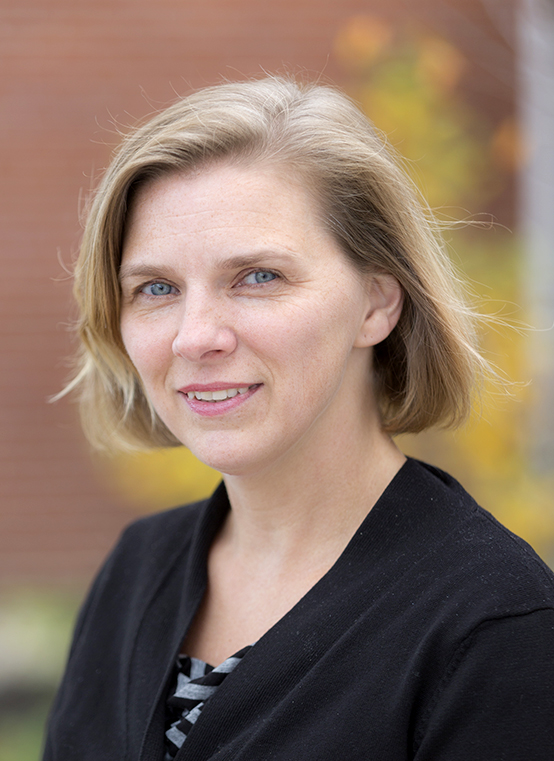 Ellen Rathbone – Project Manager & Regulatory Specialist
Ellen Rathbone is a Project Manager & Regulatory Specialist on the St.Germain team. In this capacity, Ellen researches environmental, fire and safety regulations specific to client projects and develops solutions to assist clients in maintaining and strengthening their compliance programs and permitting new facilities, including compliance management systems, web-based employee training programs, regulatory reporting, emergency plans, and state and local development permits.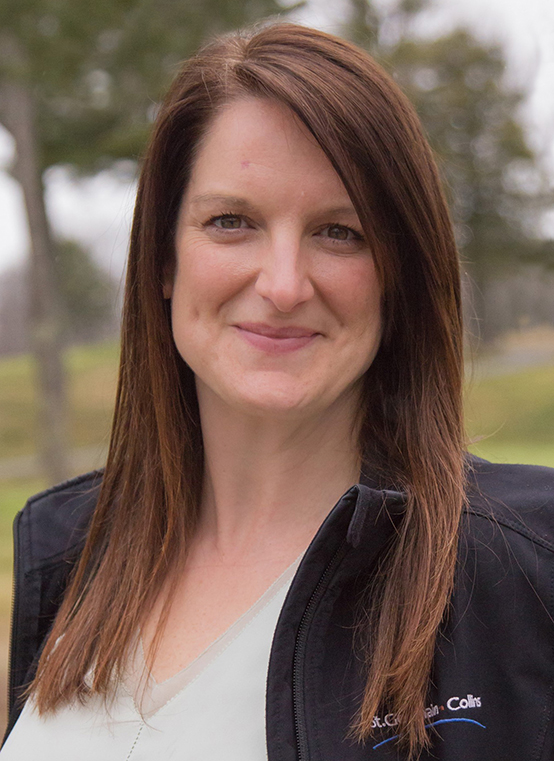 Erin Pike – SENIOR PROJECT MANAGER & Lender Services Manager
Erin Pike is a Senior Project Manager and the Lender Services Manger on the St.Germain team. Since 2005, her experience includes groundwater monitoring and reporting, tank removals, soil removal supervision, installation of monitoring wells, and project management. Ms. Pike also manages Lender Services and is experienced in conducting desktop reviews, Transaction Screens, and Phase I and II Environmental Site Assessments (ESAs) in accordance with ASTM standards at both commercial and rural, forested parcels.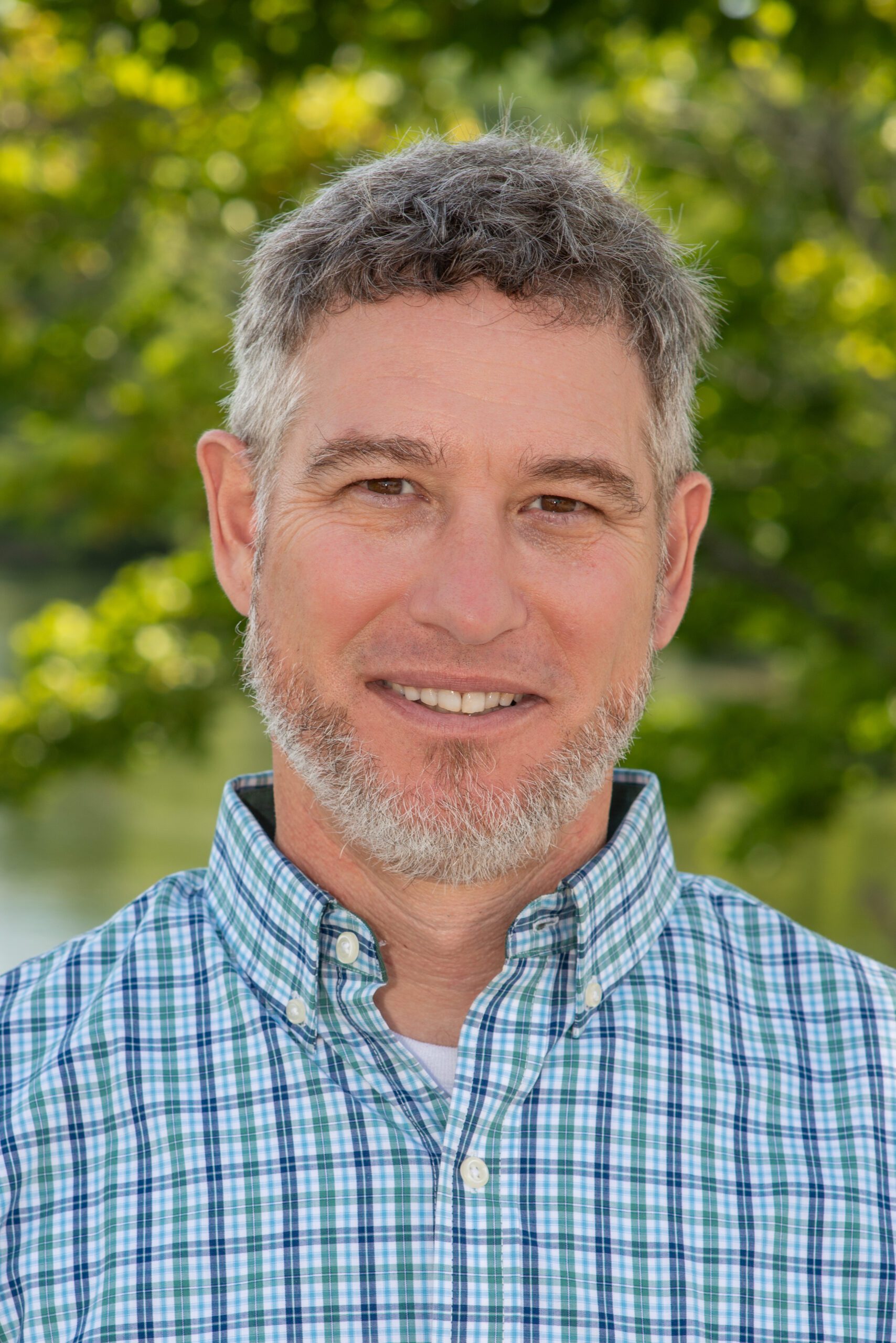 Eugene McKeen– Project Manager & EHS Specialist
Eugene "Gene" McKeen is a Project Manager and EHS Specialist on the St.Germain team. His specialized skill set includes the implementation and oversight of Quality Management Systems, the development and administration of training for production and quality personnel, and the oversight of EHS programs for large industrial facilities. Prior to joining St.Germain, Gene worked as a Quality and Safety Manager at a large industrial company, overseeing quality, safety and health, and facilities management.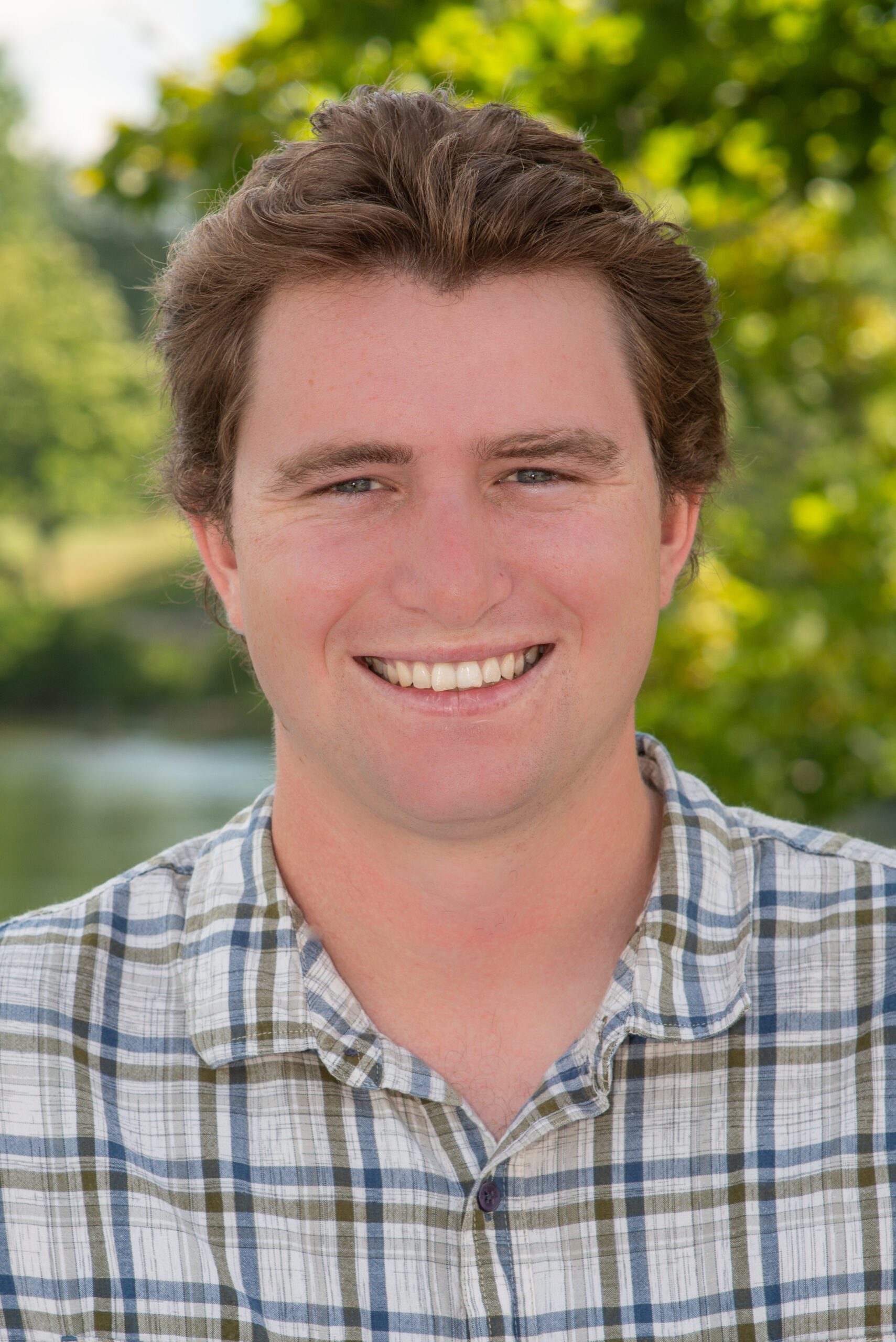 Gabriel McGinn – Environmental Scientist
Gabriel "Gabe" McGinn is an Environmental Scientist who has experience in soil, groundwater, air, and vapor sampling. He performs Phase I and II Environmental Site Assessments and underground storage tank (UST) closure assessments. Gabe has experience with direct-push Geoprobes, including the installation of soil borings and monitoring wells. He will be assisting St.Germain's clients by investigating and remediating environmental contamination at a variety of commercial and industrial sites.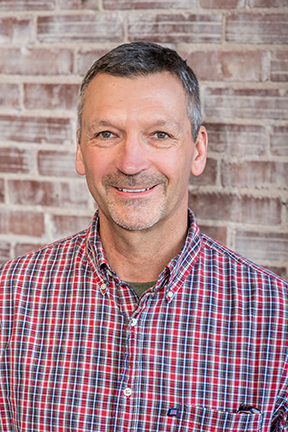 John Marchewka, L.G. – Senior Project Manager & Senior Environmental Geologist
John Marchewka has over 30 years of experience working in the environmental and geological consulting industry. He is a Senior Project Manager with the St.Germain team, with expertise in client support, regulatory negotiations, and strategic project planning.  Mr. Marchewka has completed successful environmental assessments and remediation at many commercial and industrial facilities, including hazardous waste site compliance and investigation, aggregate recources permitting and assessment, and petroleum and hazardous substance tank closure and remediation. John is a Maine Licensed Geologist.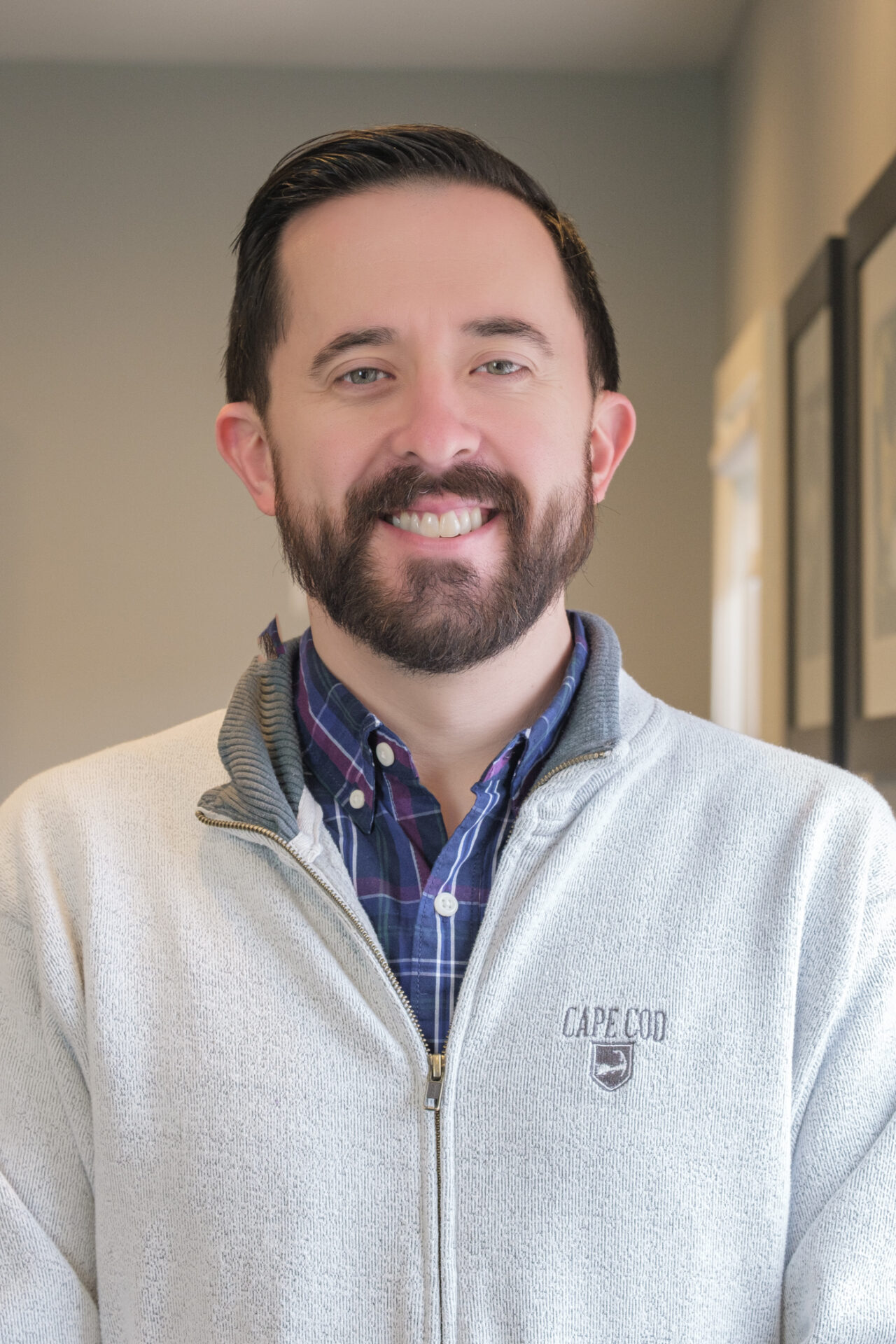 Johnathan Malloy, P.E. – Project Manager
Johnathan Molloy manages and designs site development projects, and also helps clients with applications, correspondence, and municipal/state meetings. Johnathan's wide-ranging field and project engineering experience includes everything from communication tower inspections to urban redevelopment projects, bridge construction, utility reconstruction, and accessibility upgrades to public right of ways. He is a licensed PE in 40 states, has been trained to climb towers, scuba dive, and operate excavators, and is certified in concrete and asphalt inspection.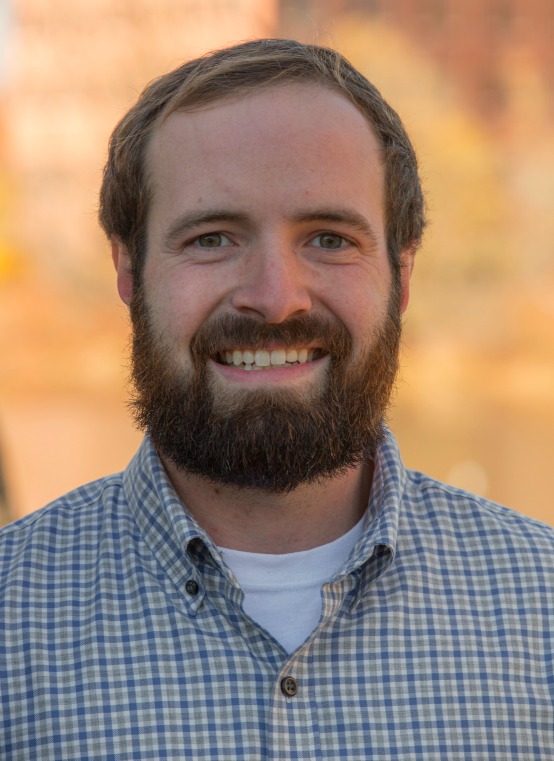 Kristopher Plante – Environmental Scientist
Kris Plante is an Environmental Scientist helping St.Germain's clients investigate and remediate environmental contamination at a variety of commercial and industrial sites. He performs Phase I and II Environmental Site Assessments; underground storage tank (UST) closure assessments; and soil, groundwater, and vapor sampling. Prior to joining St.Germain, Kris worked as an Environmental Scientist at an environmental firm in Massachusetts.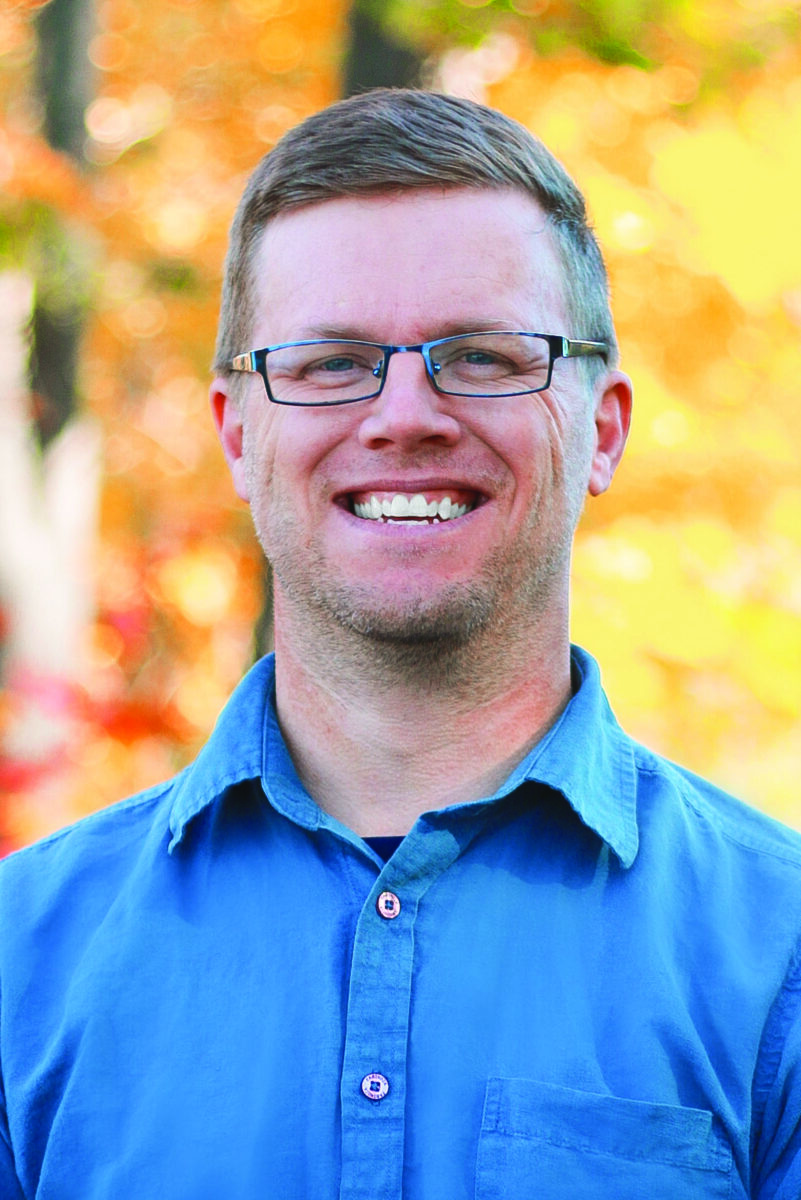 Kyle Jacobson, MS, PE– Project Manager & Civil Engineer
Kyle Jacobson has experience in design and construction of wastewater treatment, pumping, and piping projects and has overseen the project management of multiple water and wastewater projects. Prior to joining St. Germain, Mr. Jacobson was employed as a Field Engineer with the Indian Health Service – Division of Sanitation Facilities Construction in Rhinelander, Wisconsin, where he led and completed all aspects of engineering projects from initial design through construction and project closeout.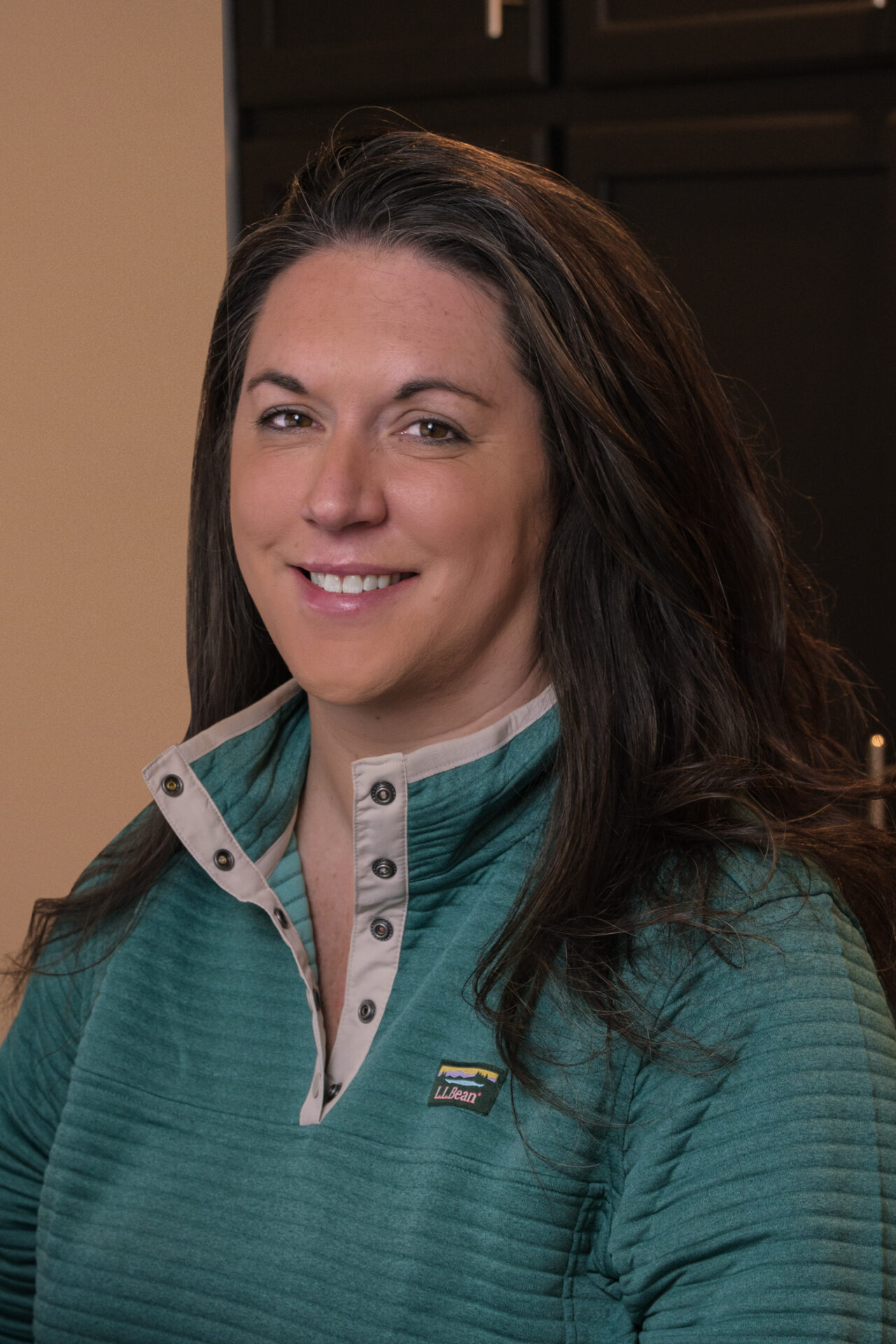 Libby Johnson, Office Administrator
Libby Johnson has several years of administrative and office management experience spanning various industries, and has spent much of her career managing an office and providing high-level support to executive teams. At St.Germain, she provides essential operational support to the management team and employees, with responsibilities that range from planning large company events to assisting with day-to-day tasks, overseeing marketing initiatives, and more.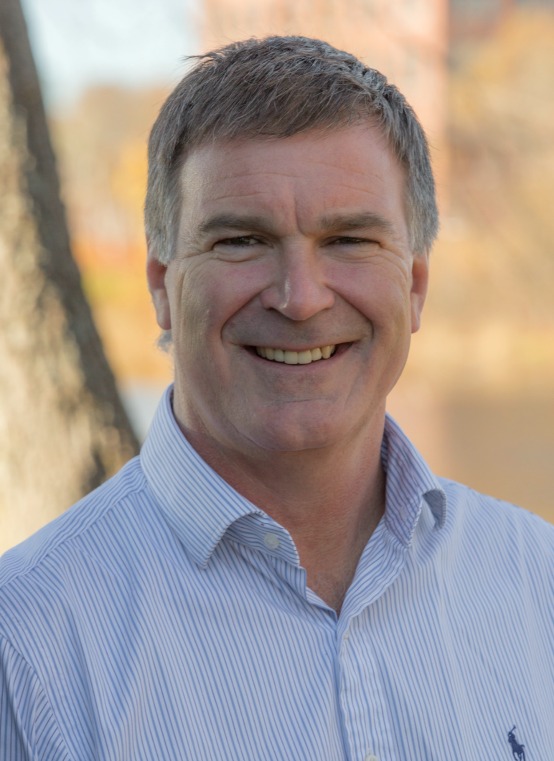 Mark St.Germain – President
Mark St.Germain is President of St.Germain, responsible for quality control, human resources and client satisfaction. Mark has extensive expertise managing multi-disciplined projects requiring environmental investigation, remediation and redevelopment. He has been designing and permitting waste management and material recovery facilities since the early 1990s and has served the petroleum industry since the late 1980s.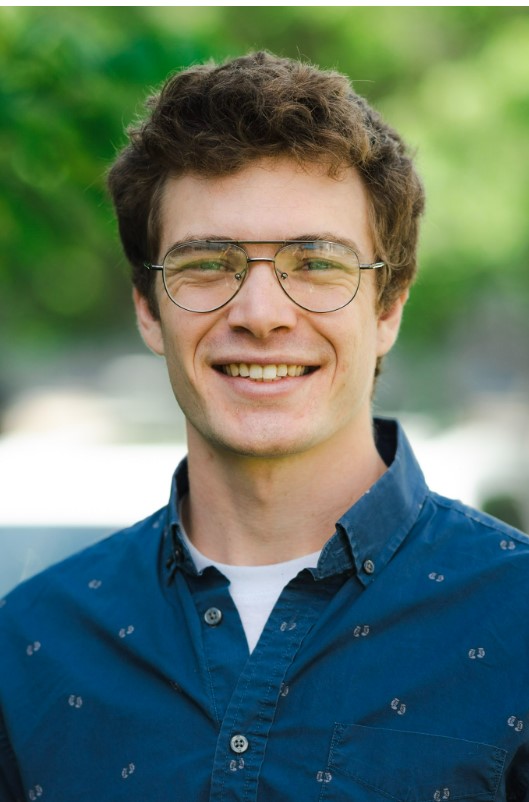 Nate Harvey – Environmental Engineer
As an Environmental Engineer, Nate supports the engineering practice area, as well as the EHS Compliance and Environmental Assessment & Remediation practice areas. He helps with engineering design, permit reviews, and field services including site inspections, environmental site assessments, and sampling for compliance. Nate earned his B.S. in Environmental Engineering (with a focus on chemistry and water/wastewater treatment) from The University of Colorado Boulder. He is a certified Engineer Intern in the State of Maine and is currently working toward his Professional Engineer license.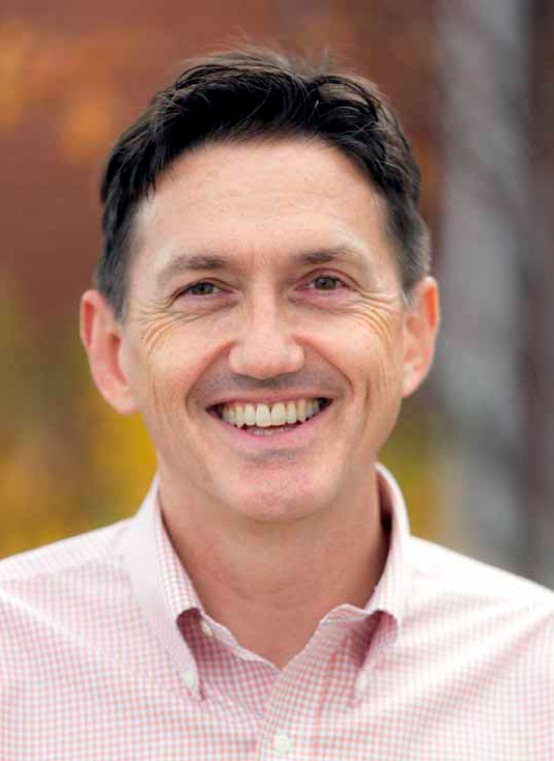 Patrick Coughlin – Principal & Director of Engineering
Patrick Coughlin is a Principal and Director at St.Germain, specializing in creating comprehensive solutions for clients, from the design and permitting of commercial sites to Sentry EHS, our cloud-based compliance software. Patrick's expertise over several decades includes compliance systems, energy and solid waste facilities, environmental site restoration, and due diligence for mergers and acquisitions.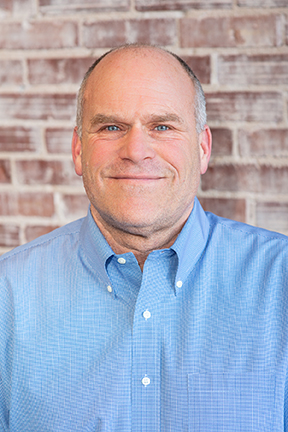 Paul Prescott – Senior Environmental Scientist
Paul Prescott has over 25 years of experience performing environmental investigations of various media including soil, groundwater, surface water and soil vapor.   Mr. Prescott is a Senior Environmental Scientist on the St.Germain team and provides expertise in hazardous waste and petroleum site investigation and closure, closures of petroleum and hazardous substance tanks, vapor intrusion (VI) investigations and environmental due diligence.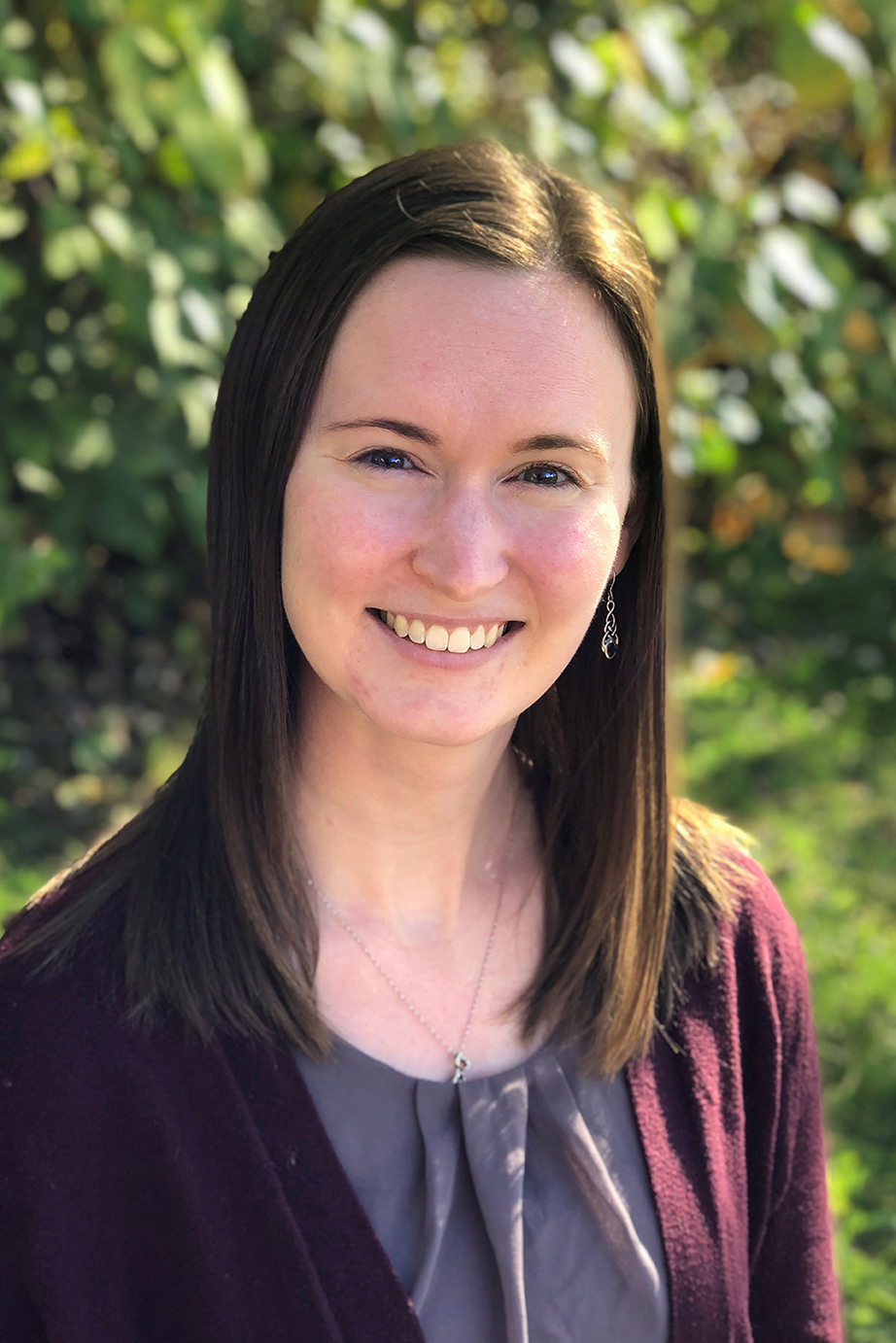 Thalia Harrington, EIT – Environmental Health & Safety Specialist

Thalia Harrington is an Environmental Health & Safety Specialist. Thalia works with clients on regulatory reporting; facility-specific plans; permitting and licensing; compliance assessments; onsite outsourcing; and other technical EHS support. In addition she identifies and updates client-specific compliance tasks in Sentry EHS, the online compliance software developed by St.Germain. Prior to joining St.Germain, Thalia was a Special Waste Environmental Analyst at Casella.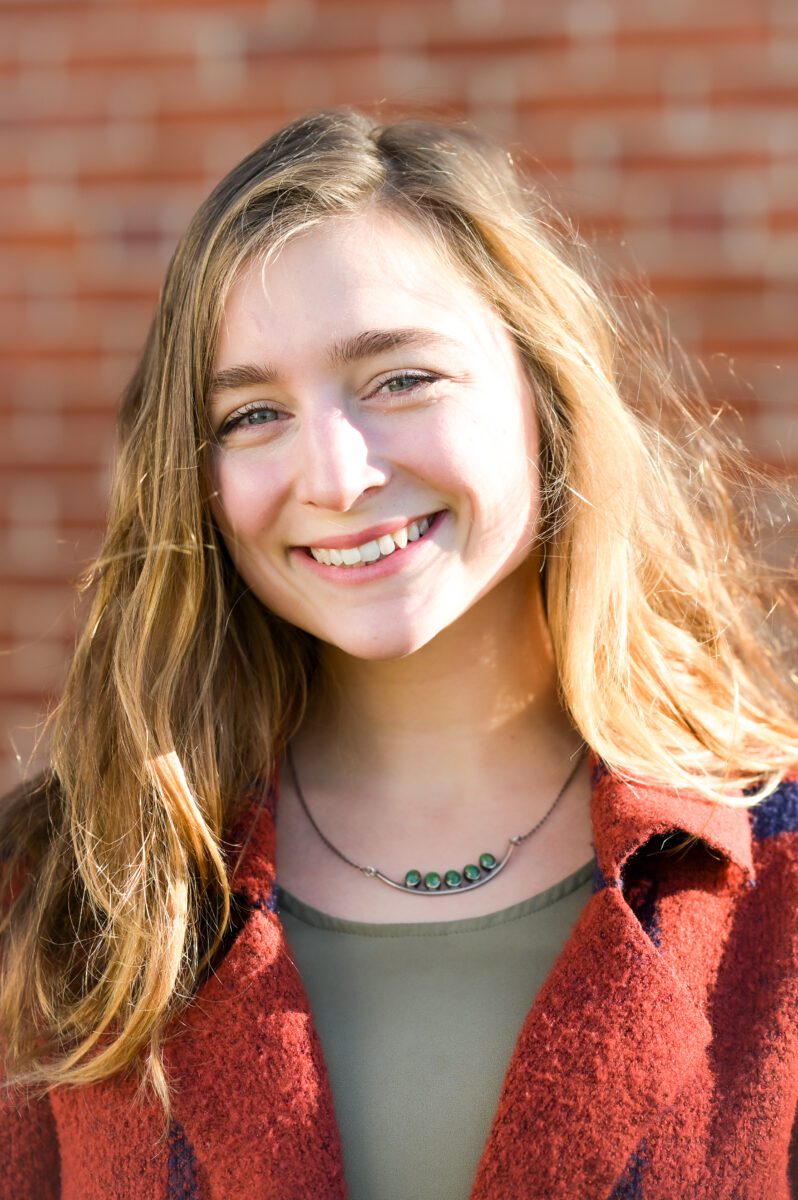 VICTORIA VOUK – ENVIRONMENTAL HEALTH & SAFETY SPECIALIST
Skilled in identifying land use management procedures for site investigation and field work based on regulatory standards, Tori has experience conducting many assessments and educating the public on various health and safety issues. Tori supports the EHS team through compliance tracking, regulatory reporting, onsite compliance assistance, facility-specific plan development assistance, regulatory research, and field activities like stormwater sampling. She has a B.S. in Environmental Public Health from the University of Wisconsin–Eau Claire and is a Registered Environmental Health Specialist (REHS). Prior to joining St.Germain, Tori worked as an Environmental Health Specialist for Snohomish Health District in Washington.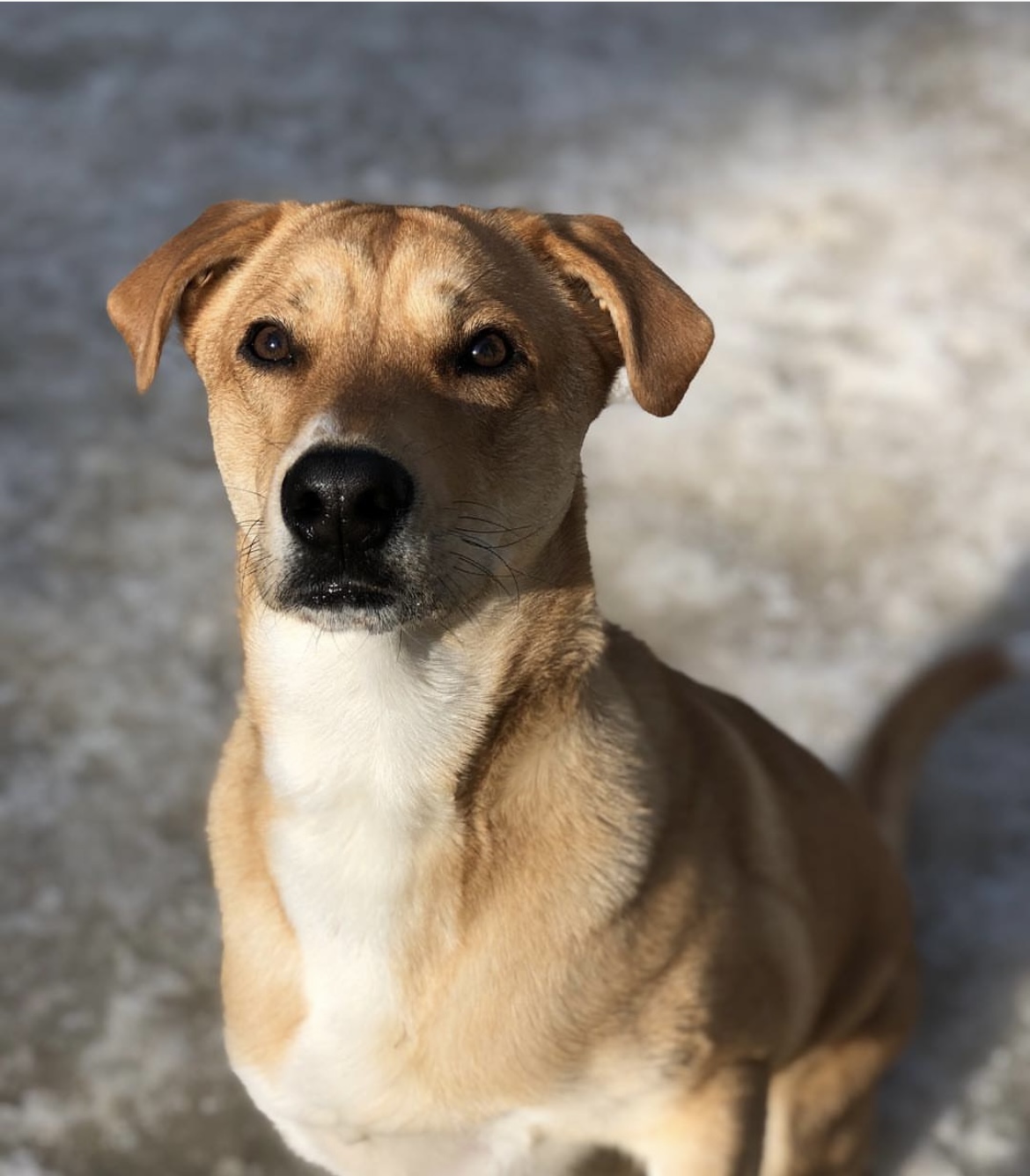 Dudley
Dudley is a 5-year-old mixed lab/hound. He loves running around the yard, chasing sticks, playing with cats and toddlers. Beach walks and cleaning yogurt cups are his two favorite things! He shares an office with John Malloy.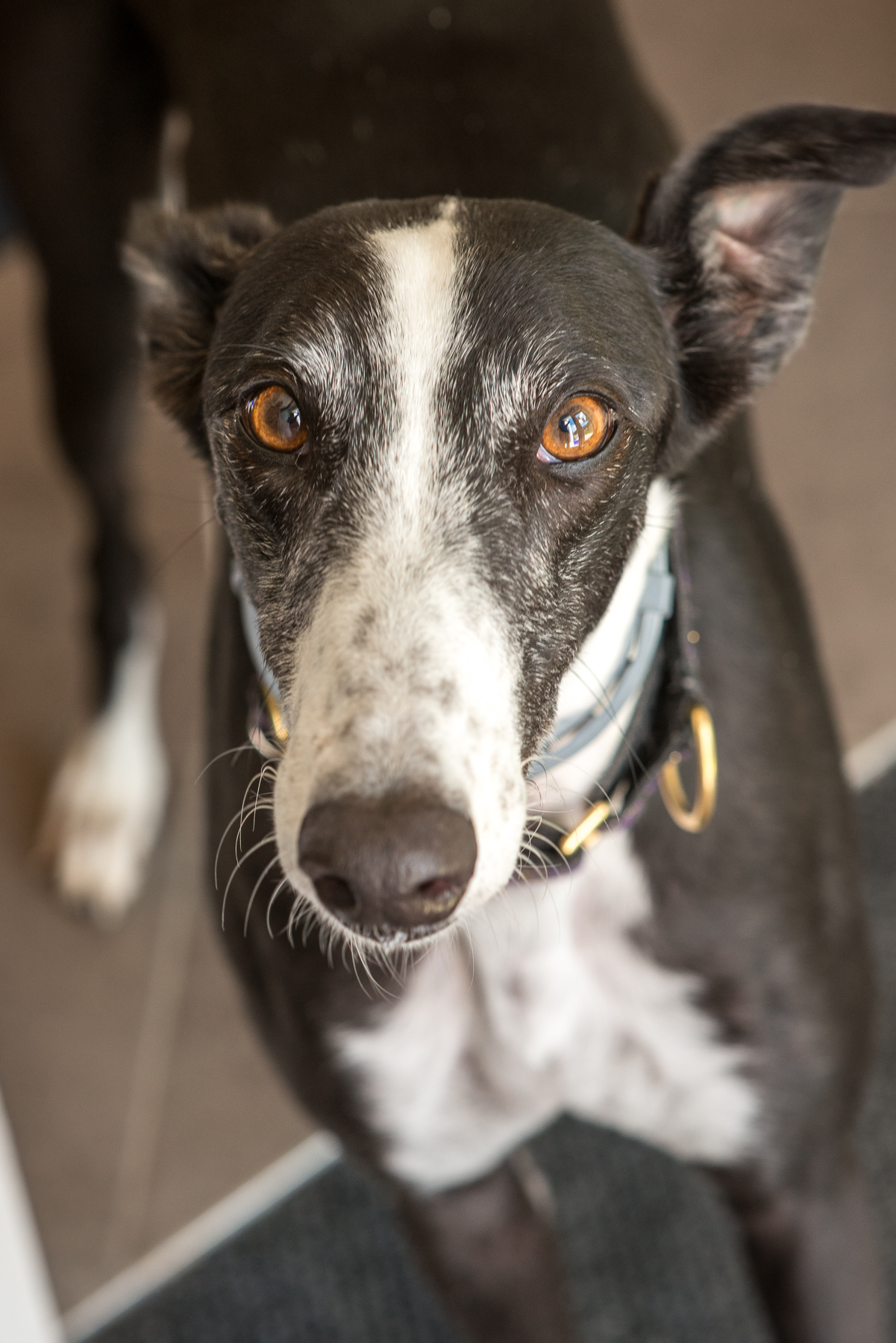 Dylan
Dylan is a happily retired greyhound adopted through the Maine Greyhound Placement Service. She raced proudly in Florida and is now living the good life in Maine. In her free time she enjoys sleeping, belly rubs, yummy treats, not running, eating grill grease…..and did we mention sleeping? She shares an office with Mark St.Germain.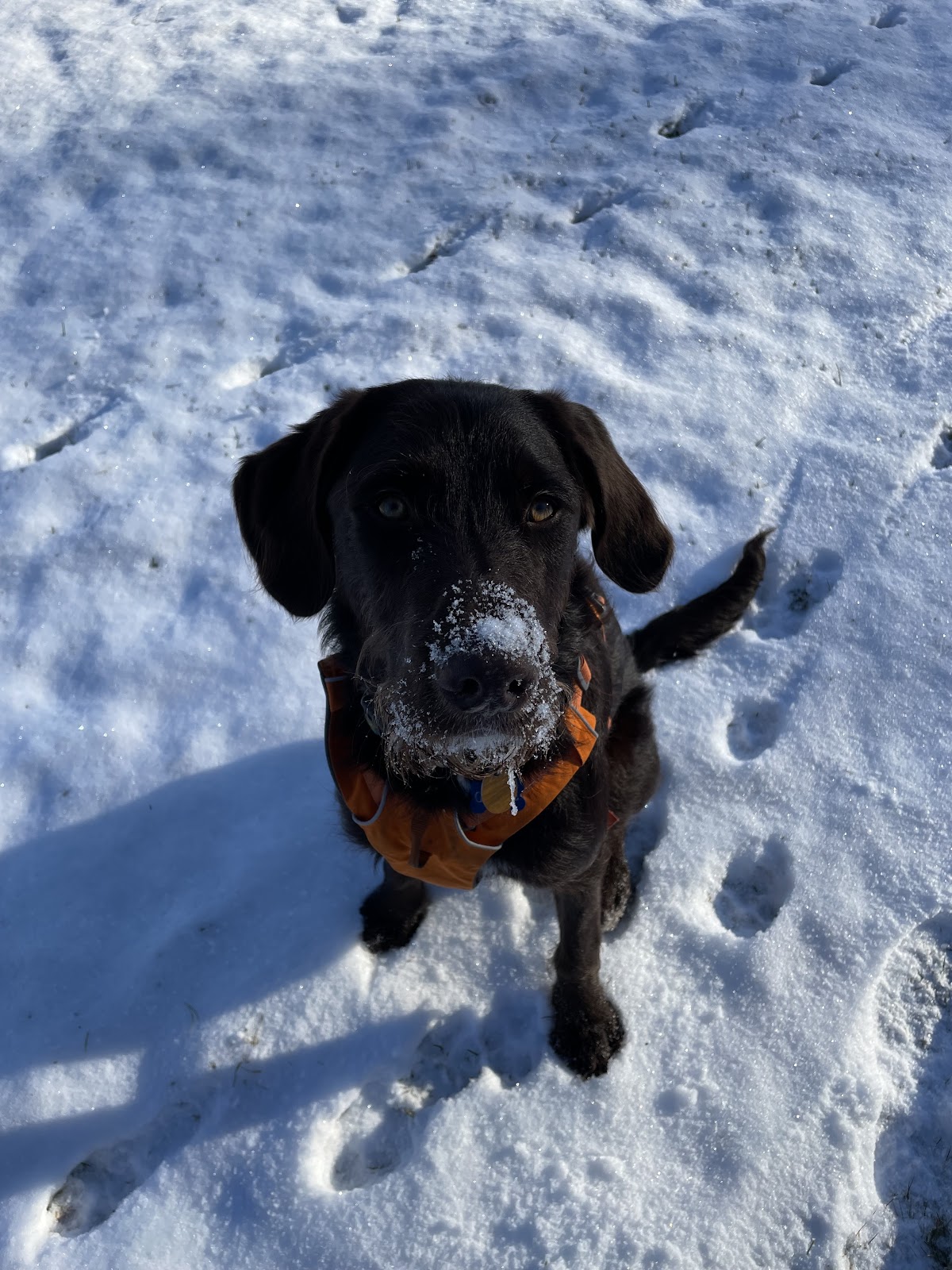 George
George is a young Pup in Training (PIT) born and raised in Gorham who lives in Westbrook. He's a people-puppy who spends most of his time playing fetch, zooming through the snow, zipping through the woods, and seeking alliance with his cat-roommates. He shares an office with Nate Harvey, spending most of his time on-duty seeking out milk bones and reminding Nate when to take a break.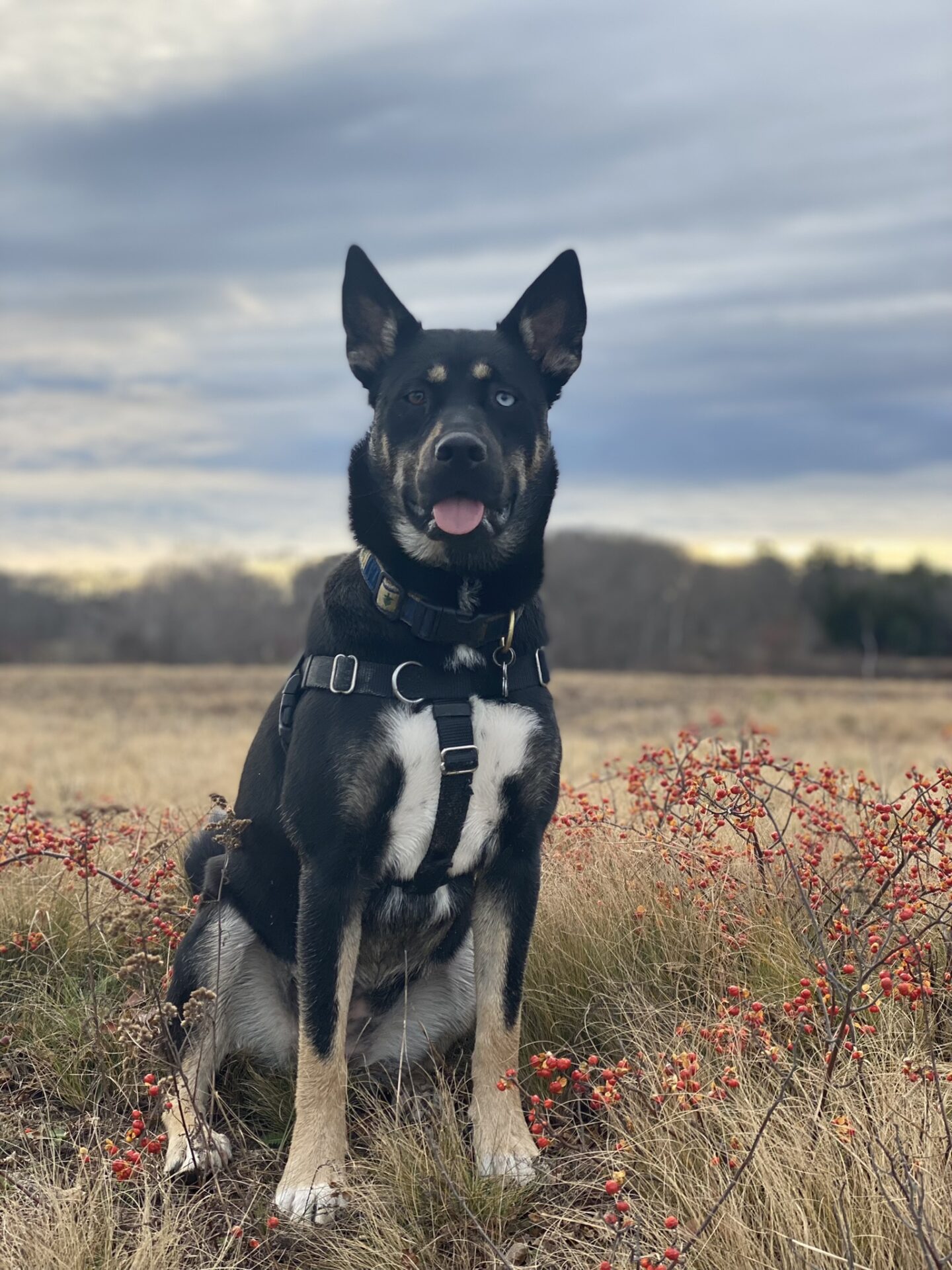 Sally
Sally is a two-year-old husky mix. She loves the outdoors, including going to the beach and hiking in the mountains. Sally is very independent and prefers other dogs to people. She shares an office with Gabe McGinn.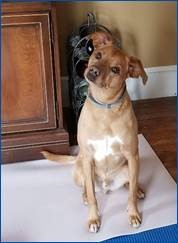 sam
Sam was adopted from Alabama and has enjoyed living in Maine for the past 10 years. Sam enjoys chasing chipmunks, squirrels, etc., playing in the snow, laying in the sun, rolling in the grass, ear rubs, naps, and treats. He shares an office with Erin Pike.