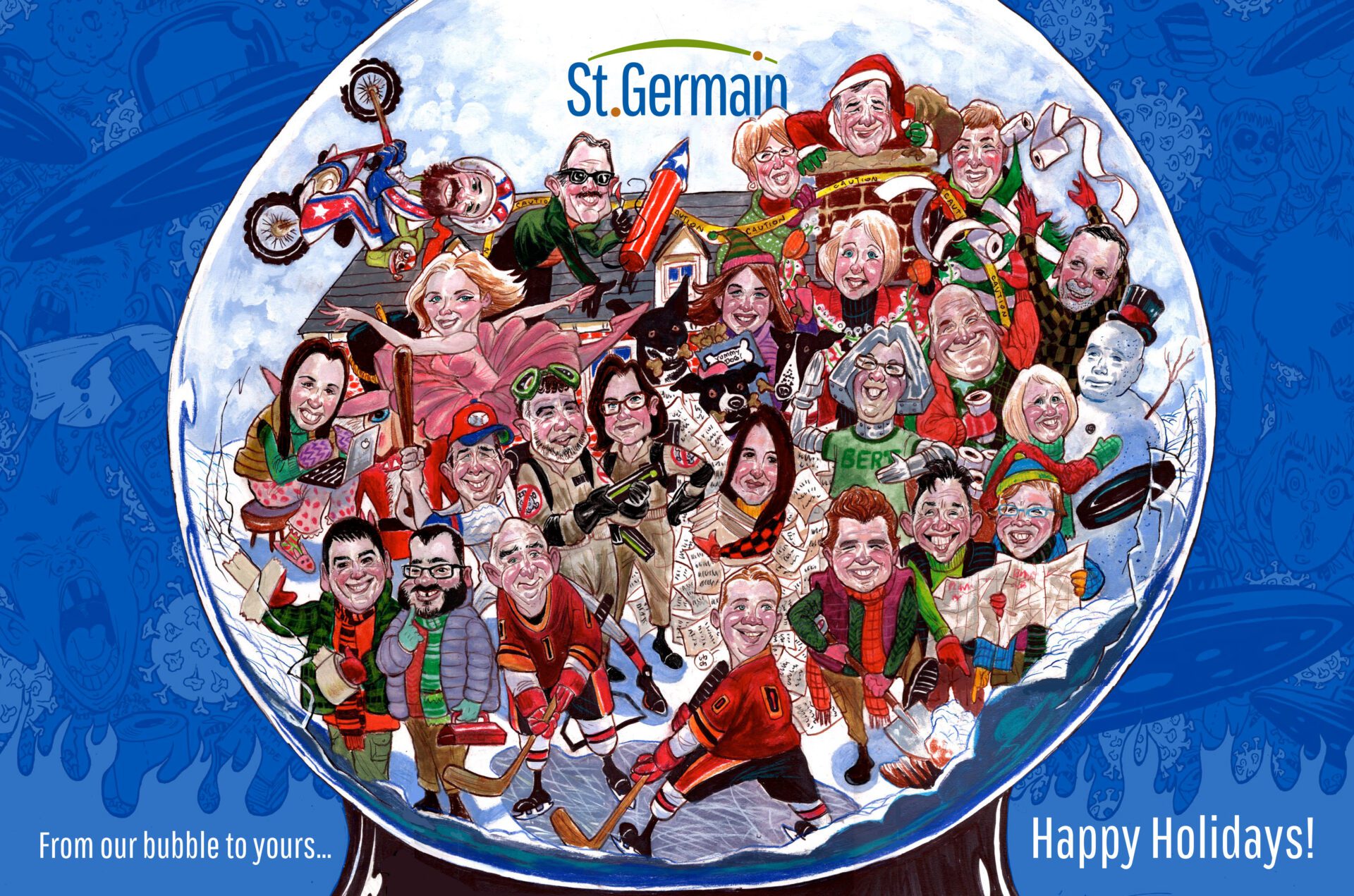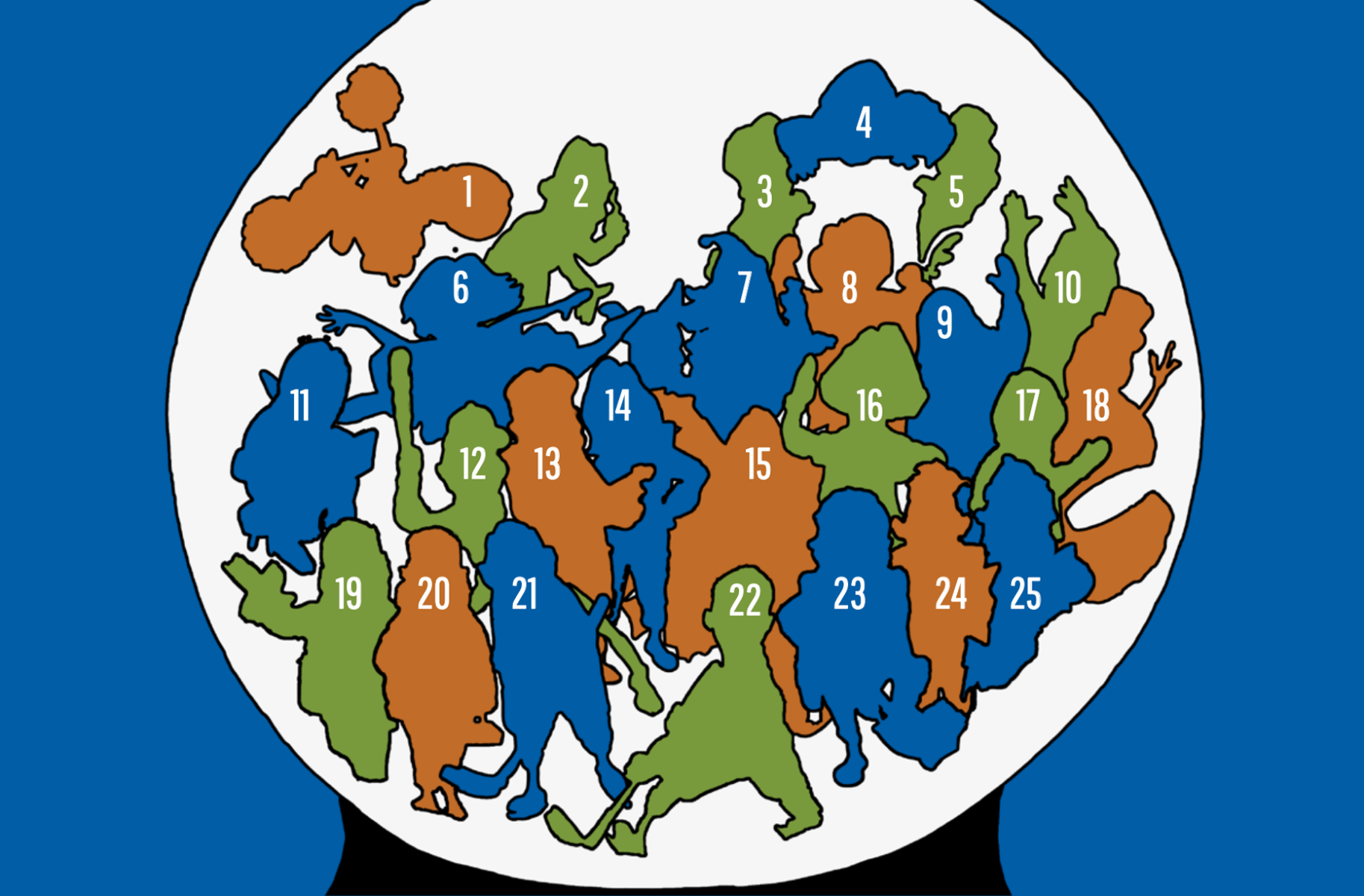 1-Kris, 2-Keith, 3-Sandy, 4-Mark, 5-Peter, 6-Ellen, 7-Amanda with Ellie, Dolly, and Dylan, 8-Randee, 9-Paul, 10-John, 11-Thalia, 12-Brian, 13-Gene, 14-Libby, 15-Erin, 16-Ava, 17-Cheryl, 18-Don, 19-Patrick G., 20-Anthony, 21-Mike, 22-Nick, 23-Gabe, 24-Pat C., 25-Kyle
There are 11 objects outside our snow globe that will forever remind us of 2020… did you find them all?
1. Quarantine Haircut
With access to salons and barbershops cut off, Americans have been forced to face and change their habits: buying clippers, dyeing colors, taking to social media to debate how long it takes roots to grow or to show off their failed attempts at a bangs trim. Or just letting it grow, and grow, managing the excess with hats, scarves, and excuses. With better management of the virus, some salons have reopened, but getting an appointment has become the next issue.
2. Kids Out of School
Across the country, many schools have closed to prevent spread of the coronavirus. Schools and districts have been scrambling to salvage the school year with remote learning, hoping to keep students on track. This has left parents working remotely from home, trying to balance the needs of their boss and their children. It's as important – and as difficult – as ever in this time of juggling limited resources and patience to practice healthy habits, such as getting enough sleep, eating a proper diet, exercising, and limiting screen time.
3. Jammie Pants
Many offices closed because of stay-at-home orders during 202; and as a result, clothing sales for work, gym, travel, and social outings dropped significantly. The coronavirus has American consumers spending more of their cash on comfort these days, as an Adobe Analytics report shows pajama sales soared a staggering 143% in April with Americans hunkering down at home. At the same time, pant sales tumbled 13%, and the price for bras also dropped by 12%.
4. Toilet Paper Hoarding
During the beginning of the pandemic, the US experienced a shortage of toilet paper due to extreme buying and hoarding. According to experts, hoarding makes people feel secure. When we were initially faced with a novel disease, the act of stocking up on toilet paper was a relatively inexpensive action that helped people feel a sense of control in an otherwise uncontrollable situation. The industry has since doubled down on production; and in most parts of the country, supply is plentiful again.
5. Murder Hornets
First discovered in Washington state in December 2019, Asian giant hornets are an invasive species not native to the US. They are the world's largest hornet, and they prey on honeybees and other insects, capable of destroying a large nest in just hours. This is not the only reason these creatures are nicknamed "murder hornets" – multiple stings from Asian giant hornets can kill a human, according to experts at Washington State University.
6. UFOs
The Pentagon officially released three short videos in April 2020 showing what appear to be unidentified flying objects. The Navy is officially releasing them "in order to clear up any misconceptions by the public as to whether or not the footage that has been circulating was real, or whether or not there is more to the videos," according to Pentagon spokesperson Sue Gough. "After a thorough review, the department has determined that the authorized release of these unclassified videos does not reveal any sensitive capabilities or systems," said Gough in a statement, "and does not impinge on any subsequent investigations of military air space incursions by unidentified aerial phenomena."
7. Annabelle
The Annabelle doll, made famous by films portraying its alleged paranormal activity, has disappeared from the case in which it was kept in the occult museum located in Connecticut. According to popular history, the Annabelle doll is a Raggedy Ann toy from the 70s. A medium told her family that the doll had been possessed by a seven-year-old girl named Annabelle Higgins. After that, the family called Lorraine and Ed Warren, renowned paranormal investigators with high-profile cases such as the "Amityville Horror," to perform an exorcism on the doll and place it in a locked case in their museum.
8. Baby Peanut
Planters unveiled a Super Bowl ad campaign in which its mascot, Mr. Peanut, sacrifices his own life to save his commercial co-stars Matt Walsh and Wesley Snipes. The incident sparked reactions from the public and the ad has several million views on YouTube. In a follow up commercial, Baby Nut was soon created to replace his predecessor.
9. Wildfires
If not for the Coronavirus, uncontrollable wildfires would have likely been the top news story of 2020. During Australia's 2019-2020 fire season, 45 million acres burned. In Siberia (half of which burned on carbon-rich peatland), record amounts of C02 were released into the atmosphere. And in the U.S., August thunderstorms ignited numerous wildfires across California, Oregon, and Washington, followed in early September by additional ignitions across the West Coast. 
10. Face Masks
Due to the Centers for Disease Control and Prevention's recommendation to wear PPE masks in public, the demand for face masks has no end in sight. PPE masks are usually made from breathable a fabric like cotton and differ from surgical masks and N95 respirators that experts say should be reserved for health care workers who are caring for the sick.
The fashion world is stepping up in a time of need: Nordstrom, the largest employer of tailors in the country, has trained its alterations teams to make face masks to distribute to health care workers. Experts are increasingly suggesting that masks may need to be worn for at least a year; and trend forecasters are predicting that they may become a fact of daily life, donned by all of us with the same unthinking passivity as a coat and sunglasses when we leave the house.
11. Hand Sanitizer
Does your hand sanitizer smell a lot like tequila? You're not imaging things! Craft breweries and distillers throughout the state have joined forces with the University of Maine produce mass amounts of hand sanitizer. UMaine was tasked with supplying sanitizer to the Maine Emergency Management Agency, but was in need of large quantities of high-grade ethanol, which the breweries were able to provide. The donated fermented liquid is then refined by area distillers until the alcohol reaches the necessary potency. Chemical engineers at UMaine mix the alcohol with hydrogen peroxide and glycerol, and the final product is distributed to hospitals and non-profits.